Rizhao Lanshan Biochemical
Yesterday and today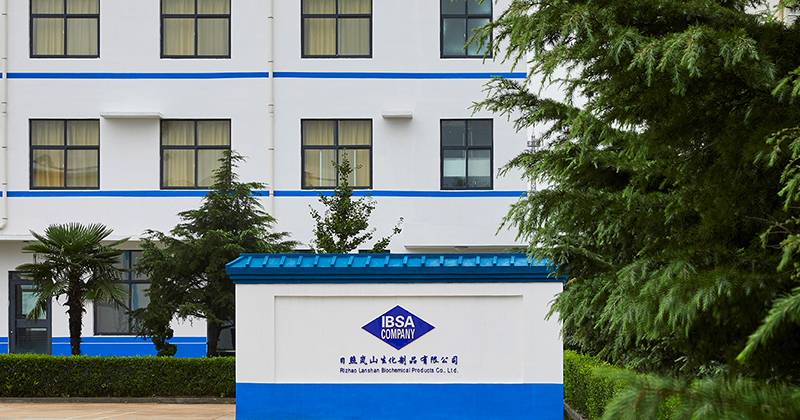 In September 2002, due to the expanding market demand of IBSA, Rizhao Lanshan Biochemical Products Co. Ltd. (hereinafter as RLB) was born. Total area 48,000 sqm. from earlier 21,000 sqm. to later 29,000 sqm.. The site is located at the export processing zone of Lanshan District, Rizhao, which is 45 km from the municipal of Rizhao and is close to Lanshan airport and the high-speed railway station with convenient transportation.

RLB integrates R&D department, production and processing of intermediate pharmaceutical products, with GMP certified plant and equipment. The main products produced are chondroitin sulphate (CS), human chorionic gonadotropin (hCG) and human menopausal gonadotropin (hMG).

Since its establishment, Rizhao Lanshan Biochemical has successively won numerous honorary titles of "advanced enterprise of export processing", "advanced enterprise of economical and intensive land use", "advanced enterprise of import and export of foreign trade and economic cooperation", "AAA credit enterprise of Rizhao city", "A-level enterprise of law-abiding and integrity of labor security in 2017" and so on. In 2019, Quality Assurance was awarded by the municipal Government with the honorary title of "female employee achievement model post" and CS Classified Team was awarded with the honorary title of "five-type team" by the district Government respectively.

So far, RLB has three GMP standardized production workshops, two laboratories, nine warehouses, a complete sewage treatment system and an ethanol recovery system. The CS workshop covers an area of about 870 m2, the FSH Frac. A workshop covers about 940 m2, the HCG Frac. A workshop about 800 m2, the CS QC laboratory about 400 m2 and the FSH QC laboratory about 260 m2.
In 2018, RLB successfully applied as "Provincial enterprise technology center".
Seventeen years have passed, the company scale continues to expand, from the initial 14 employees to 105 nowadays. The area has increased from 21,000 sqm. to 48,000 sqm., and the green area is approx.10,000 sqm. Since its establishment, RLB has always devoted great importance to its employees' spare time. So far it has annually held 14 basketball games, 12 table tennis games and 10 cross-country matches. The new staff canteen can accommodate 150 employees at the same time and the staff dormitory can accommodate up to 80 people. The company provides good welfare treatment its employees, including dormitory equipped with heating system, air conditioning and Wi-Fi. It also provides a canteen, shuttle bus system, paid annual leave, entertainment facilities (such as table tennis, basketball, badminton, etc.), birthday welfare, various holiday welfare and more.
Quality System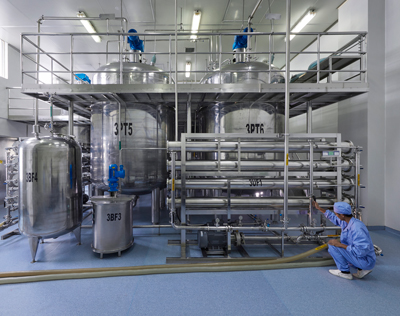 A quality policy based on EU-GMP Part II and the ICHQ7 Guidelines is followed at the Lanshan site, in accordance with IBSA company policy and appropriate internal procedures, aimed at ensuring that all manufactured batches meet requirements in the fields of safety, identity, power, strength, quality, purity, coherence, reliability and stability.

All products conform to GMP standards and suppliers are systematically monitored, in order to achieve high quality and compliance with legal requirements.

The plants have been designed and built in full respect of GMP standards, with a layout suitable for accommodating both human and logistic flows.

In 2018, RLB passed the last CFDA inspection.
The Rizhao Site in figures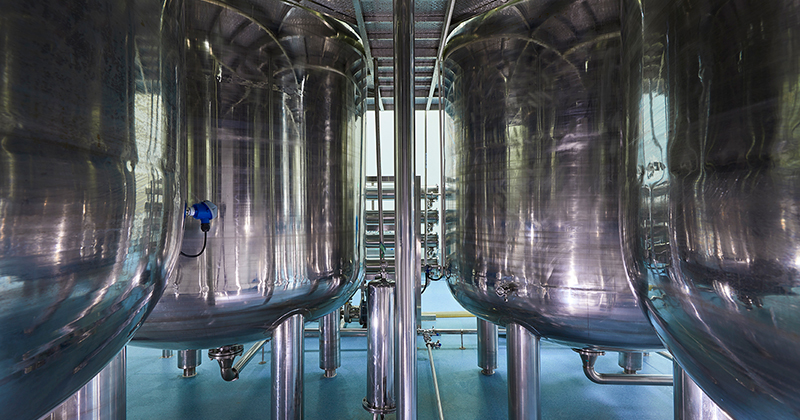 105 employees
Average age: 35
Percentage of women: 28%
48,000 sqm. - total area
5,000 sqm. - production areas and warehouses
660 sqm. - QC lab
4,200 sqm. - offices, dorm, canteen
10,000 sqm. - green areas
5,000 sqm. - available for future expansion
The site is made up of:
3 production plants
1 production plant for chondroitin sulfate (870 sqm.)
1 production plant for crude FSH (940 sqm.)
1 production plant for crude HCG (800 sqm.)
2 laboratories (660 sqm.)
1 waste water treatment system (300 cum. daily disposal capacity)
1 ethanol distilling tank yard (40 tons daily recycling capacity)
9 warehouses
1 enclosure
1 office building
1 staff canteen, dormitories and leisure areas
Contacts
Rizhao Lanshan Biochemical Products Co., Ltd.
South End, Yuquan 2nd Road, Lanshan District, Rizhao, Shandong, P.R. of China

Phone: +86 633 2232399